This post brought to you by Walmart and Walmart Foundation. All opinions are 100% mine.
I think there's a mythic woman who surfaces on Mother's Day every year in our national consciousness, the Norman Rockwell-esque stay at home mom who has fresh treats ready for when the kids get home from school, wears a cute 50s frock, keeps the house immaculate and is ready with a kiss and a hot, balanced dinner for when Dad gets home from a tough day at the office. Now that's kinda how I grew up (well, minus Mum wearing a frock) but more and more these days mothering is about balancing the responsibilities of being a mother with those of being a woman, an adult, a friend and a spouse.
That's why when I learned about Walmart's Empowering Women Together campaign, I was impressed. Walmart isn't just packaging up its Mother's Day campaign in that Norman Rockwell frame but also recognizing that a whole lot of Moms — and women who don't have children — are also business leaders and company owners in its complex and massive supply chain. What better way to really celebrate mother's day than to honor these woman-owned businesses with a special promotion?
When I think of Walmart's supply chain (sorry, my MBA is sneaking out with this terminology) I somehow imagine that it's all huge corporations run by teams of old white guys, but that's false, and one way that the company is reminding us of the richness of its supplier community is through the Empowering Women Together campaign, whether the company is from Haiti, India, Peru or here in the United States of America.
If you're going to be buying a present for your own Mom to celebrate Mother's Day, why not have it be from a woman-owned business too? Something to think about, for sure.
In fact, here's an interesting Infographic the Walmart team assembled about the Empowering Women Together campaign: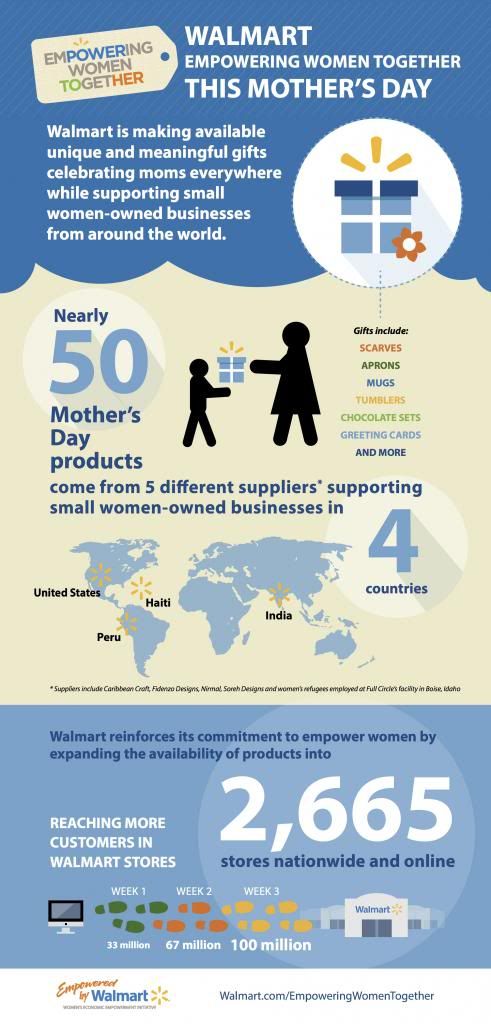 In any case, Happy Mother's Day to all you gals out there, whether you're a Mom or a Mom-to-be. Life would sure be a lot more boring without y'all, not to mention we'd die out in a single generation. 🙂