The best versatile wardrobe will include clothes for a wide variety of occasions. Don't fret if you don't already have all the basics, however, because finding great men's clothing can be an adventure. Just start with the right pants and a basic t-shirt. Whether you're heading to the gym, the office, outdoors or a cocktail party, the key is to choose the right pants and suit jacket. Then everything else can be dressed up or down to match the situation.
If you're a Dad, there's another consideration too: flexibility. Having flexible clothing options is crucial so that you can focus on your kids and having fun not worrying about being perfectly bespoke. A day working on the car, mountain biking, or hiking doesn't need to just be jeans and a T-shirt! Heck, with the right clothes in your closet, you can be the most stylish Dad in the garage, outdoors, and at work, and it can be done surprisingly effortlessly.
Polishing Your Outfit
Having too many choices in your closet can be overwhelming. Remain flexible in your choices and keep some fundamental staples available, however, and picking an outfit shouldn't be too hard. Being a father and family man, there's no time to waste putting together an outfit when the kids need breakfast and everyone has to get out the door to meet the bus or get to school on time. Just a basic review of your wardrobe might reveal that the addition of some basics will let your morning move more smoothly. Throwing on a sports jacket and stylish shoes can quickly update that basic t-shirt and jeans look in really good ways.
5 Wardrobe Staples for Dads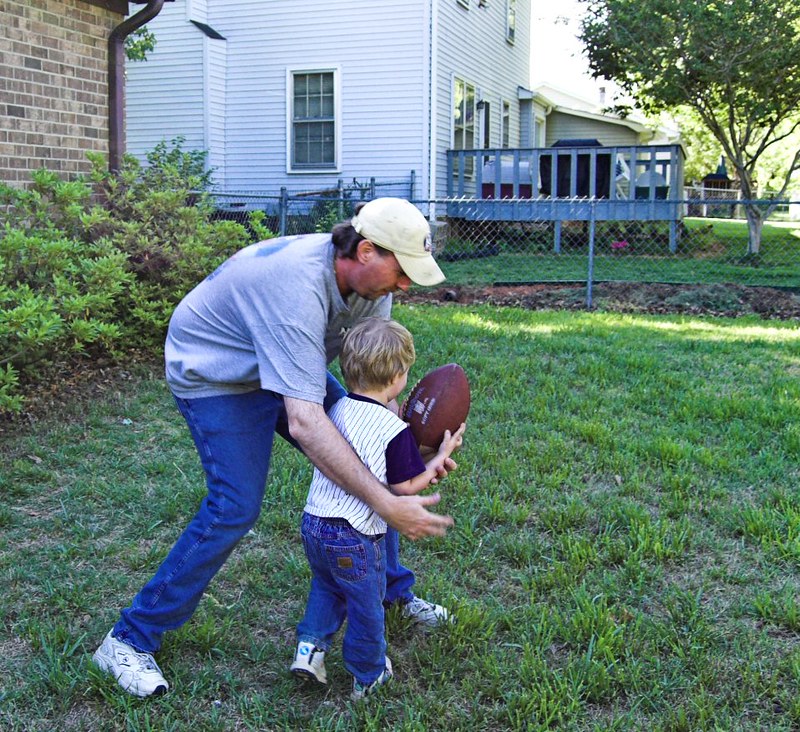 Your wardrobe will set you up for success with a focus on five essential staples. Make sure you have the following pieces well represented: a dark-colored sports jacket, a blue button-down polo shirt, a dark pair of jeans, brown leather boots, and a watch. The sports jacket and polo are great for formal and semiformal events, while your jeans, boots, and watch are necessities that can be an attractive casual outfit when paired with a crew neck tee. For something slightly different, it can also transform into a laid-back but slightly dressier outfit by adding your sports jacket. Even better if you live an active lifestyle (read "have kids") is that you can get your darker colored jeans, sports coat, and shoes a little dirty and it won't be noticed if you have a good combination of colors and shades.
Flexibility and Fashion
To maximize the range of your wardrobe without breaking the bank, it's also important to have a few of your clothing items be really durable, high-quality, versatile pieces. A solid interchangeable wardrobe requires a few foundational pieces that may be a bit more expensive but will look better, age better and will last for years. Interchangeable items can save you time, money, and space in your closet. Take an inventory of what you have, figure out what items you do wear regularly (and what you haven't worn in six months), and start buying core pieces of clothing.
Indeed, a smart and functional wardrobe is something you can definitely assemble over a period of time. At least once you have those few staple items like a comfortable, dark colored sports jacket and some fashionable boots. Please, no sneakers and jeans if you want to look even a little bit fashionable at the next school PTA meeting, office event or even kickin' at the park with your kids.
Must-Have Footwear
Got the clothes all set? Excellent. Now don't forget what's on your feet. In fact, stylish, high-quality footwear can make or break an outfit. You don't have to go all Imelda Marcos with hundreds of pairs of shoes, but let's be honest, a designer suit with a high-end watch won't look right at an event without an appropriate pair of dress shoes. There are lots of companies making attractive footwear so there are lots of options to match your tastes and the needs of the occasion. Personally, I look for shoes that are attractive, durable and as all-weather as possible.
Ultimately, just like the rest of your wardrobe, your shoes should make you feel confident and comfortable. This can range from a pair that'll match up with shorts on a summer afternoon down at the dock to boots for working around the house to more formal footwear for work, business events and date night.
Put it all together, and you can build up an attractive wardrobe that lets you attain fashion nirvana: Easy choices that all work well together, letting you grab an outfit without much thought and yet always look nattily turned out, stylish and handsome. Now, let's get started…